About the Editor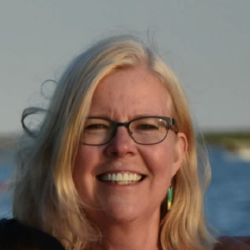 Caitlyn Dlouhy is Vice President & Publisher of Caitlyn Dlouhy Books.   She likes to say she grew up in a tree, a massive willow where she hauled up books tip top high.  From that perch, she could see the whole world… through the lens of those books. Her publishing choices have always stemmed from this: giving readers the opportunity to see themselves, and the rest of the world.    The power of voice –voices unusual and unexpected, marginalized or yet un-sung, voices that just plain shimmer and hum, that press and push and experiment — is utterly irresistible to her, and her books have always showcased this.  Covering most every age group and format, her books have often been published to great accolade, including a Newbery Medal and Honors, a National Book Award and Finalists, Printz honors, Coretta Scott King Awards and honors, Walter Awards, Edgar Awards and Christopher Medals, PEN USA Literary Awards, a Kirkus Award and finalists, a Pura Bel Pre Award and a Kate Greenaway Award.  Many have also topped  New York Times bestseller lists (and the most banned books in America lists).
     It is her great honor to publish such luminaries as Marjorie Agosin, Laurie Halse Anderson, Kathi Appelt, Ashley Bryan, Doreen Cronin,  Jennifer de Leon, Frances O'Roark Dowell, Sharon Draper, Candace Fleming, William Joyce, Desmond Hall, Heather Henson, Cynthia Kadohata, Naaz Khan, Beth Kephardt, Betsy Lewin, Alison McGhee, Matt Mendez, An Na, Phyllis Reynolds Naylor, Jason Reynolds, Sujean Rim, Eric Rohmann,  Raúl the Third,  Nini Tuan, Briana Uchendu, Judith Viorst, and, Alicia D. Williams, just to name a few.
     Categorizing what she's looking for could result in her possibly missing out on something that could quite possibly take her breath away, so, if you truly love it, she would truly love to see it!