About the Editor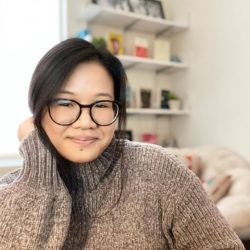 Loan Le is a Senior Editor at Atria Books. She began her publishing career at Gallery Books and Scout Press in 2014, then joined Atria in 2016. She graduated with a bachelor's degree in journalism from Fairfield University in 2014, where she later earned her MFA in fiction. Her titles include Carolyn Huynh's The Fortunes of Jaded Women, a GMA Book Club Pick; Jess Kidd's The Night Ship and Sarah Langan's Good Neighbors, both B&N Book Club Picks; and Shea Ernshaw's A History of Wild Places, a Book of the Month Pick. Loan is eager to acquire dark, character-driven, and atmospheric upmarket and "literary plus" fiction—literary fiction with propulsive genre elements like folklore, horror, speculative, mystery, suspense, and/or thriller. The eerier the story, the more likely she'll like it! Loan loves genre-bending works; if a novel can be pitched as "Part X, Part Y, and Part Z," then it's probably meant for her. She acquires select uplifting multicultural family fiction. Loan is also the author of YA novels A Pho Love Story (2021) and Solving for the Unknown (2023). Follow Loan on Twitter and check out her expanded manuscript wish list on her website.
Authors Include: Sarah Langan, Shea Ernshaw, Jess Kidd, Emily Austin, Jennifer Fawcett, Carolyn Huynh, Adam Hamdy, Luke Dumas, Meredith Westgate, Mai Nguyen, Leigh McMullan Abramson, Kevin Chong, and Arianna Reiche
Topics that capture Loan's attention: family secrets, sisterhood, murders, trauma, disappearances, hauntings/ghosts (literal and/or figurative!), diverse voices, refugee and immigrant experience, Vietnamese culture, clever plot twists, and unlikely friendships
Spark words in pitches: Psychological, slow-burn, genre-bending/mind-bending, unsettling, disquieting, suspenseful, eerie, unpredictable, taut, etc.
Loan admires and wishes she acquired The Book of Speculation and Light from Other Stars by Erika Swyler, The Sun Down Motel by Simone St. James; Ill Will by Dan Chaon, Universal Harvester and Devil House by John Darnielle, Help for the Haunted by John Searles, The Majesties by Tiffany Tsao, The Gathering by Anne Enright, Into the Woods by Tana French, The Frangipani Hotel by Violet Kupersmith; The Demonologist and The Damned by Andrew Pyper, The Stolen Child or The Boy Who Drew Monsters by Keith Donohue.
Recent films/movies related to her reading interests: Netflix shows The Sinner, Broadchurch, The OA, and Sense8. She generally dislikes plots centered on sports, marriage drama/betrayals, alternate history, military, and World Wars. She is not looking for: high fantasy or high sci-fi, romance, second-person narratives, memoirs or prescriptive nonfiction. 
Loan's editing philosophy is to respect and preserve the author's style. Her authors can expect a commitment to polishing their work and also long, energetic discussions about the craft of writing.